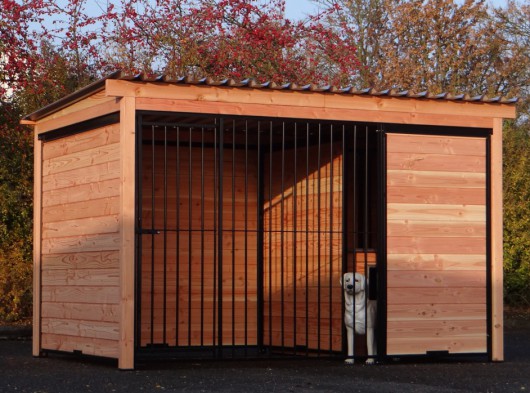 More photos
Less photos
Design your own dog kennel in 3D
Dog kennel Forz with wooden frame is a dog kennel of good quality. The dog kennel is equipped with an insulated doghouse with platform and a wooden frame of Douglas.
Product details
With practical hinged roof, for a better accessibility
With practical hinged roof, for a better accessibility
The roof is equipped with alluminum edges
* Outer bar distance of the panel with door is approx. 10,5cm
**There can be considerable colour differences in Douglas fir. This depends on whether the wood is from the outside of the tree or is heartwood. This colour difference gradually diminishes, due to ageing and discolouration.
With aluminum edges of 2 mm thick along the opening
The kennel door is standard on the left side, opens inwards and has the option of a padlock
* Can be delivered in mirror image as well at request
Douglas wood is a beautiful and durable type of wood, which can be used outside untreated. However, it will eventually turn gray, unless you treat it with stain or Douglas oil.
All ironwork is black powdercoated against corrosion.
The wooden beams of the kennel (88x88mm) are equipped with plastic feet
The doghouse has an optimal insulation value: Thickness of the insulated panels about 7cm (!)
Roof plates are made of steel and are equipped with felt at the bottom, so that it is sound-absorbing in case of rain.
Supplied in easy-to-install panels.
Fasteners included for the panels, the roof and anchoring on hard surfaces
Unprotected wooden edges can be provided with aluminum strips to prevent gnawing. You can request this by email. The price for this is € 9,50 per meter (incl. assembly).
If damaged parts or welds show corrosion, it can be treated with black Hammerite.
This dogkennel is available in a lot of different sizes, and usually we can deliver it from our own stock.
Files
Dimensions
| | |
| --- | --- |
| Distance between the bars | 8cm |
| Thickness bars | 16mm |
| Frame (WxT) | 25x25mm |
| Height of the feet | 5cm |
| Height of the panels | 184cm |
| Square metres of kennel | 6m2 |
| Size of dooropening (in the dog run panel) | 59x174cm |
| Outer ground dimensions (WxD) | 342x240cm |
Dimensions
EAN code: 8719874152242