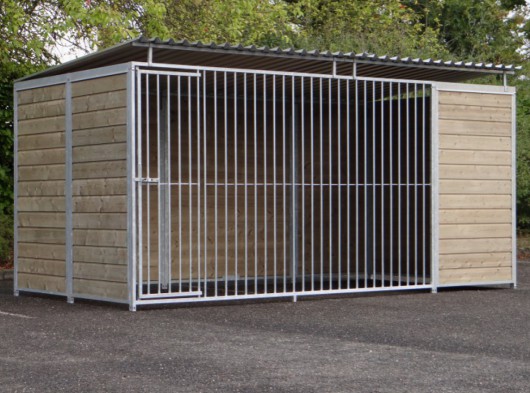 More photos
Less photos
Design your own Dog kennel in 3D
Product details
vervangen
Roof plates are made of steel and are equipped with felt at the bottom, so that it is sound-absorbing in case of rain.
The kennel door is standard on the left side, opens inwards and has the option of a padlock
Don't use the shelter as a doghouse. Therefore doghouses are available in the category doghouses.
Height in the kennel minimum 184cm
Wooden panels are provided with preserved pine rabat parts of 18 mm thick.
Supplied in easy-to-install panels.
Fasteners included for the panels, the roof and anchoring on hard surfaces
Anchoring for soft surface is also available in our webshop.
Assembly time with 2 persons +/- 3 hours
All ironwork is galvanized against corrosion: 8 years guarantee on galvanisation!
Other setups are possible as well.
Files
Dimensions
| | |
| --- | --- |
| New | |
| Outer dimension including roof (WxDxH) | 407x220x202cm |
| Outer ground dimensions (WxD) | 400x205cm |
| Dimensions of the roof (LxW) | 407x220cm |
| Square metres of kennel | 8,2m2 |
| Wood thickness | 18mm |
| Roof slope | 15cm |
| New | |
| Size of dooropening (in the dog run panel) | 54x174cm |
| Thickness bars | 16mm |
| Frame (WxT) | 25x25mm |
| Distance between the bars | 8cm |
| Height of the feet | 5cm |
EAN code: 8719558672356